You may think your rug looks clean, but the dirty truth is that it needs to be cleaned regularly. Are you wondering why? because

dust mites and the accumulation of sand, soil and other debris are carried onto your rug from outdoors. You may not see it, but you feel it. Rugs take an important part in adding life to your home, don't you want it to look fresh and clean? All rugs are made of different fibers, dyes and piles but at

Rug cleaning in NJ

, we inspect all types of rugs and check for fading,discoloration,stains,wear and any damage. Our experienced technicians

clean area rugs in NJ

all the way and determine the best cleaning procedure for your rug.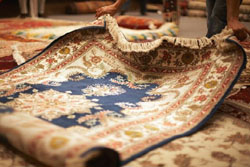 To achieve

high quality carpet cleaning in North NJ ,we use modern and effective techniques to focus on giving your rug, carpet and upholstery the same look as when your first bought it. The first step we take is pre-vacuuming and pre-treating system which removes all loose particles and nicely treat any stains and spills and that is followed by absolute rinsing and washing. Then, Morris County NJ rug cleaning experts groom the rug and comb the fringe to give back the rug its original. After it dries, we inspect the rug one more time for quality control before we give it back to you as if you just purchased your rug all over again.
So, is your rug ready for cleaning?
Contact ACE Carpet Cleaning at
973-328-3438 T
oday for a free estimate and more information.